If you've been wondering how to build a sales funnel, look no further. Here I share some quick tips on how to build a 4-figure sales funnel in 24 hours.
This one is drop dead simple, though even so that's no reason to dismiss it.
You can build yourself a sales funnel in 24 hours that yields 4 figures…
…PER SALE.
Yes. Really.
Here's what you do…
Find offers in your chosen niche
Go to ClickBank.
If you don't already have a Clickbank account, then create one (easy peasy).
For this example, I'm going to imagine that you're in the online marketing niche, however this works in other niches too.
Go to the e-business and e-marketing section of ClickBank.
Sort the results by the term, "Avg$/Conversion".
This is going to give you the average commission an affiliate earns for each conversion to the vendor's offer, including the earnings from all sales (initial sales, upsells and rebills).
Look at the numbers and you'll see offers that can earn you four figures per sale.
(Disclaimer: This is the average per sale and your results may differ)
Why are these offers making this kind of money for the affiliates?
Because they've been tested, tweaked and optimised to convert. In other words, 90% of the work is already done for you.
Choose 3 to 5 of these high paying offers that you might like to promote. You are going to use one of these as your backend offer in your sales funnel.
You get extra points if it's a product you already know and feel good about recommending!
Your next step is to choose a front end offer in the same niche but at a much lower price. Ideally your front end offer should logically lead to the back end offer as the next step.
For example, your front end offer could teach someone how to build a sales funnel, and the back end offer could teach them how to drive traffic to that funnel.
Don't agonise too long in making a decision. If it turns out you chose products that aren't converting for you, then you can easily try a different pair of products. In fact, you might set a timer for 60 minutes to locate and choose your two products along with making a list of back up products. This will keep you from procrastinating over the decision and get it done asap.
Lead Magnet
Now then, once you've got the front end and back end products, you're going to create a lead magnet so you can gather email addresses on your squeeze page. Don't agonise on this one either. Choose something that you can create in a few hours or less, such as a video, cheat sheet or very short report. Tailor this lead magnet to attract the exact type of people who would be interested in your two products.
Here's your funnel:
Squeeze page offering the lead magnet.
Welcome page with front end offer of a low priced product.
Thank you page with a back end offer of a highly profitable product that is the logical upsell to the front end offer.
You can do this in less than 24 hours, test it out, and possibly be making a profit in no time.
The key here is that the products you're selling and the sales pages for those products are already proven to convert, so most of the work is done for you.
Traffic
Choose your own methods of sending traffic to the offers. With paid methods there's no limit to the amount of traffic you can send, and the offers can make as much or more money than the advertising costs (self-liquidating offer) and you can build your list for free.
But using non-paid traffic works, too. Send your lead magnet offer to your list, on social media, guest blogging and any free traffic method you prefer.
Rinse and repeat.
If you're truly ambitious, you could set up one of these funnels per week, or even per day.
You could also sell the funnels to new marketers as a done for you solution to get them started in online marketing.
I hope you found these tips helpful – let me know if you did.
You can learn more from this free eBook – "7 Proven Methods To Ethically Persuade Customers To Buy Your Backend Or Upsell Offer"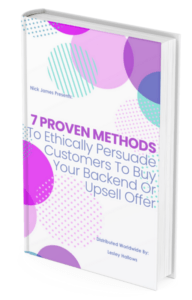 All the best,
Lesley
Affiliate Disclaimer: As well as personally using the above-mentioned tools, I am an affiliate for the products too. This simply means that if you were to make a purchase through any of my links, I would earn a commission. This adds no extra cost to you. And I won't be recommending products or services that I don't use myself.